Photos in story by Ronald Labelle
 At 73, Robert Charlebois still is an amazing performer, in complete control of his prodigious body of work. On Oct. 16, 2017, both his immortal repertoire and the exceptional man behind it will be celebrated at the Montréal SOCAN Awards Gala.
On that night, he'll receive the aptly-named Lifetime Achievement Award celebrating the outstanding success of a SOCAN member throughout his career. To Charlebois, this honour is a wonderful recognition. "It goes to show that if there's one thing everybody agrees on, it's longevity," he says. "Nobody really understands what talent is, but careers that have spanned 40, 50, or 60 years always mean something."
Yet, in the early '60s, nothing hinted at such a long career for the future enfant terrible of the Québec music scene – back when he was just a piano accompanist for Jean-Guy Moreau, his friend and fellow citizen of Ahuntsic (a popular neighbourhood in the north-central part of Montréal). The latter, a singer and comedian popular on the boîte à chansons circuit, he specialized in imitating the great chansonniers. "He was very meticulous and he'd ask me to play a few tunes while he went backstage to change," says Charlebois. "The thing is, people were there to laugh… They didn't appreciate it at all when I sang!"
Robert Charlebois then came up with a song that was typical of the era, and classic in the sense that it was inspired both by his father's love of American crooners like Sinatra, and hi mother's love for French chansonniers like Charles Trenet. A fan of Chopin, he learned to play the piano at boarding school, even though he never actually learned to read the "tiny black notes," and later discovered rock n' roll as a teen, especially Chuck Berry and Jerry Lee Lewis. "Those are the basic ingredients of who I am, somewhere between Elvis and Maurice Chevalier," Charlebois summarizes with a laugh.
Following the advice of Marcel Sabourin – who taught the young singer during his stint at l'École nationale de théâtre du Canada from 1962 to 1965 – to "let his creativity explode", he wrote several songs and gave solo shows. Meeting chansonnier and poet Jean-Paul Filion in a coffeehouse would turn out to be particularly memorable.
"He saw me singing "La Boulé" and got into it right away," says Charlebois. "He told me that if I could come up with 10 or 12 more like that, he'd introduce me to this guy named John Damant. Not long after, I met with that producer in my best suit and white shoes. He said, 'We're not gonna make you do a 45… We're releasing an album right away, because you're of the Vigneault and Léveillée calibre.' Six months later, I was back with a bunch of songs, and we recorded the whole album in a single afternoon."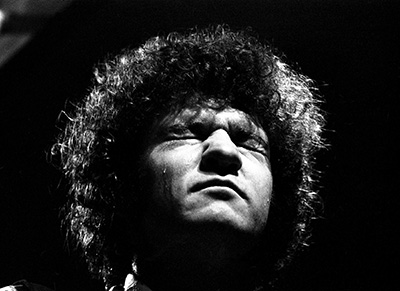 A critical success, Vol. 1 paved the way for its successor, released in 1966. Almost repudiated by its author, it went rather unnoticed and Charlebois realized he needed to change his approach. "If writing well is writing like no one else, I figure singing should be just the same," he says. "In other words, why try to be a Gilbert Bécaud No. 2 when there's one already?
"Back then, there was a lot of cultural entitlement going on: Bretons wanted to sing like Bretons, and we, too, were realizing that we are not French. So, on my third album, I integrated words from the Québécois patois. My writing was still between two chairs, but it didn't sound like anything else playing on the radio."
Determined to broaden his horizons, the twentysomething left to explore the American West over a period of three months. He was invited to stay at Michel Robidoux's sister's place – Robidoux was his friend, who introduced him to the electric guitar – and met several important musicians, including members of The Byrds and Big Brother and the Holding Company, Janis Joplin's band. "That was at the height of flower power, just before the Charles Manson thing," says Charlebois "One open door led to another, and all thanks to the international language of the blues. I was on the porch of a beachside motel, and when I heard a guitar, I'd reply with the right chord. I met people that way and, one thing leading to the next, I ended up being invited to a party at Peter Fonda's place, and it was like the entire planet had been invited. There was food, drinks and weed for everyone! Three months later, I was back in Montréal with the same five-dollar bill in my pocket as when I left."
Re-inventing Everything
It was with a fully-integrated desire to re-invent everything that the singer-songwriter began the writing several new songs. Alongside his commune mates, he took great pleasure in de-constructing and re-constructing sentences written by Claude Péloquin. That's how, in a single night, "Lindberg" came to be written.
"Claude wrote on cigarette packs, beer cases, scraps of paper," says Charlebois. "One night, the girls [Louise Forestier, Mouffe and Sophie Clément] gathered all those scattered writings and brought them to me. I cleaned it up and found an intro, and the hook. I showed it to Vigneault, and he said it was impossible to sing and that I'd never manage to turn that into music. I took that as a challenge… Louise and I sat down and found the harmony, and we sang the song to friends of Claude's who happened to pass by. They kept asking us to sing it again, while lighting up joints. Not that I condone drug use, but I'd lie if 'psychedelia' didn't play a role in how we saw music as a territory to explore. Call it a collective creation," says the artist, whose song will also be recognized with the Cultural Impact Award, alongside co-writer Claude Péloquin, and their publisher, Éditions Gamma, during the SOCAN Gala.
Emblematic and ground-breaking, that song set the stage for the creative process of Charlebois' fourth album, which was imbued with a sense of urgency, and involved the collaboration of a few select peers such as the Nouveau Jazz Libre du Québec quartet, Marcel Sabourin, and Gilles Vigneault, who penned the lyrics of "La Marche du Président." "That, too, was written in a single night, and that was the time Vigneault tried weed for the first time!" he laughs. "Louise and I went to his second-story place in Québec City. I had the basic melody already in mind, and Gilles jumped right in with his pen."
Recorded in a single night and mixed over a period of several weeks at André Perry's renowned studio in Brossard (a suburb on Montréal's south shore), Robert Charlebois Louise Forestier was tepidly received. "It took six months before radio got on board with it," says the icon. "We were booed when we opened for Jean-Pierre Ferland… We were even excommunicated by cardinal Léger because of the line 'une crisse de chute en parachute'! [In English, 'a fucking drop with a parachute,' but the point of the excommunication was that the swear word 'crisse' is derived from the word 'Christ,' as a vast majority of Québécois swear words are derived from the church.] On the other hand, the people who liked the album really loved it. Over in France, people saw an energy there that existed nowhere else in Francophone music at the time," remembers the man who played the hallowed Olympia, in Paris many times in the following years, before going on tour with Léo Ferré. "I, for one, was convinced of one thing: for once, I knew exactly where I was headed."
Profoundly changed by a Frank Zappa concert he attended, Charlebois convinced his friends Louise Forestier, Mouffe and Yvon Deschamps to create a multidisciplinary show that they would play at the colourful Paul Buissonneau's theatre, the Théâtre Quat'Sous. Two days before the première, in May 1968, Buissonneau resigned as artistic director for the show, unable as he was to manage the troupe. "Ton hostie de show, fourre-toé-le dans l'cul" ("shove your fucking show up your ass"), he told Charlebois, who saw in that a great opportunity to re-name said show L'Osstidcho.
"He wanted us to wear small paper hats, but I'd just come from California and seen what an eclectic show can be," says Charlebois. "He also thought we played too loud, but all we wanted to do was play some rock. We fired him and re-imagines the show by giving ourselves room to improvise. At the end of the first show, the room was completely silent for a good two minutes. We were freaking out, we thought it was the flop of a lifetime…  And then, everybody jumped up as one and applauded for about 10 minutes. We were blown away."
That show, which was born in a turbulent socio-political context, was instrumental in Québec's cultural awakening, on par with monuments like Michel Tremblay's Les Belles-sœurs and Réjean Ducharme's L'Avalée des avalés.
The Stage as a Proving Ground
The following decade, too, was to be marked by that manifest and dynamic cultural awakening. The Superfrancofête, held on the Plains of Abraham in 1974, was one of the finest examples, thanks to the presentation of a concert titled J'ai vu le loup, le renard, le lion (I've Seen the Wolf, the Fox and the Lion) that assembled three key artists of the Québec music scene: Félix Leclerc, Gilles Vigneault and Robert Charlebois.
"The idea was to put on a big party to celebrate our Francophone playground, regardless of anyone's political sensibilities," says Charlebois, who, despite many  accolades, once defined himself as "un gars ben ordinaire" ("just an ordinary guy") in his beloved song "Ordinaire." "I remember Félix was slightly afraid of me. He'd told Gilles, 'I know you , Gilles, but do you think we can trust the young one who threw his drums at the Olympia? Apparently he uses drugs and all that.' As a welcome when I went to visit him at his place, he said, 'Park your car the other way around, it'll be easier to leave!' [laughs] But we ended up having a lot of fun. We got drunk on gin and tonics and we laughed a lot."
As many artists whose popularity peaked in the '70s, the turn of the next decade marked the beginning of a somewhat more tortuous path. "When the disco era came about, I felt confident I could get through that, but in hindsight, I can't pretend it was a great period," Charlebois readily admits. "I, too, succumbed to the temptation of a beatbox and synths. It was fine back then, but it's just not my world. What I like is the cultural and character confrontations that are typical of an orchestra."
It's partly why the man chose the stage over the studio for most of the '90s and early 2000s. Only four albums of original material were released during that period, notably Doux sauvage and Tout est bien, released in 2001 and 2010, respectively, on the La Tribu imprint.
"No one expects anyone's album anymore, and I'm no exception to that rule," says Charlebois. "Anyway, in the era of streaming, I predict the death of the agonizing Francophone music industry within 20 years. By that point, all that will be left are amateurs who write bad songs," he laments. "Hopefully, I can still surprise you. I'm going to New York soon to meet a producer from Brooklyn. Apparently he's a miracle worker, and I figure that maybe meeting new people will take me in new directions."
Until the release of that possible album, it'll be re-examination time for Robert Charlebois. After all, 2018 marks the 50th anniversary of both that ground-breaking fourth album and the monumental L'Osstidcho, which suggests that the SOCAN Gala Awards are probably just the first few drops of a torrent of awards he's about to receive.
But for the masked singer, those highly nostalgic anniversaries are far from the sign of a coming retirement. Indeed, the legend is touring again in France next March and April.
"I'd have gone for longer, but my musicians and wife won't let me!" says Charlebois. "A month-and-a-half seems rather short, but to visit 40 cities, it's not that long, especially since I can't do one show after another as much as I wish I could. Sometimes I compare myself, and I see bands like the Rolling Stones who play a lot less shows than I do in a year, although we don't have the same level of energy, either. Still, music is an extreme sport. And it's the only sport I practise."